PETE STATHAM IN THE MEDIA
(magazines, websites, etc.)
VICBEARS MELBOURNE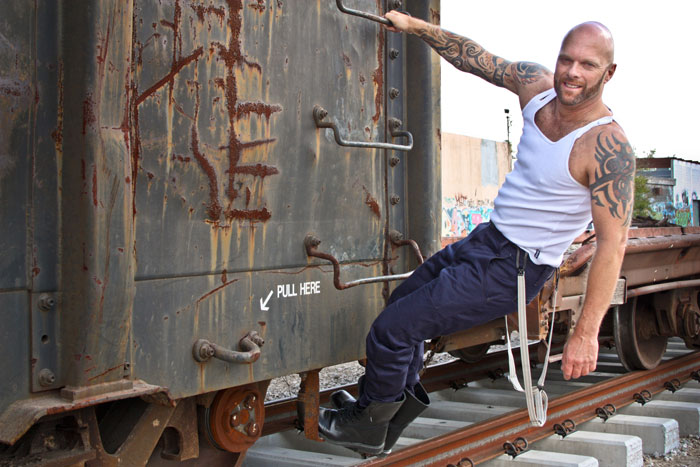 In conversation with Pete Statham Netherlands-based singer songwriter Pete Statham, formerly a member of Bearforce1, will perform at the February Union at The Laird on Saturday 23 February. The Buzz caught up with Pete before he headed downunder.

Describe the sort of music you create and perform.
It's electro-pop music with a little touch of the eighties.

Did you have a music career before Bearforce1?
Before Bearforce1 I'd recently started a band with my music friend Ian Turner. Our band was called Bearup! and we'd made a few demos. Our first demo was called FURBALL.

What did you learn from your time with Bearforce1?
I learned from my time in Bearforce1 that success is very relative and sometimes a thin shiny layer where underneath there's a world of greed and emptiness. But I also got a lot of stage experience and met lots of fun people and travelled with the band to many wonderful places.

Why did you leave the group?
I left the group because of several reasons. My friend Ian from Bearup! had also joined Bearforce1 had left the group shortly after our 2nd single Christmas is here. I missed my 'soulmate', I wanted to sing and express myself more, but our management had a different format in mind. I also came to realise how shallow and superficial the music world can be, so I left after 1 year. It took me some time to find inspiration for writing my own songs and lyrics, and to find people who could make beautiful arrangements for the songs and melodies I wrote.

Is music your full-time life or do you fill in your day with other creative activities?
Music has always been a great passion but it s not my regular job. I'm working in several prisons in the Netherlands as a humanist spiritual counsellor. I'm a confidential person for the non-religious inmates. Even a judge may not know what we're talking about.

Have you been to Melbourne before?
I've been in Melbourne before, but that was almost 25 years ago. But I remember the Laird quite well.

Your ideal man?
My ideal man is someone with the looks of Jason Statham and with the heart of an angel.

Tell us something which we probably don't know about you.
There's lots you don't know about me. Let me see ... Ok, I participated for IML in 1995 and became 2nd runner up. And … I'm still single!

You can also hear Pete when he chats with the team on The Woods, Joy 94.9 on Thursday 21 February.
ZYX-music krant. December 2016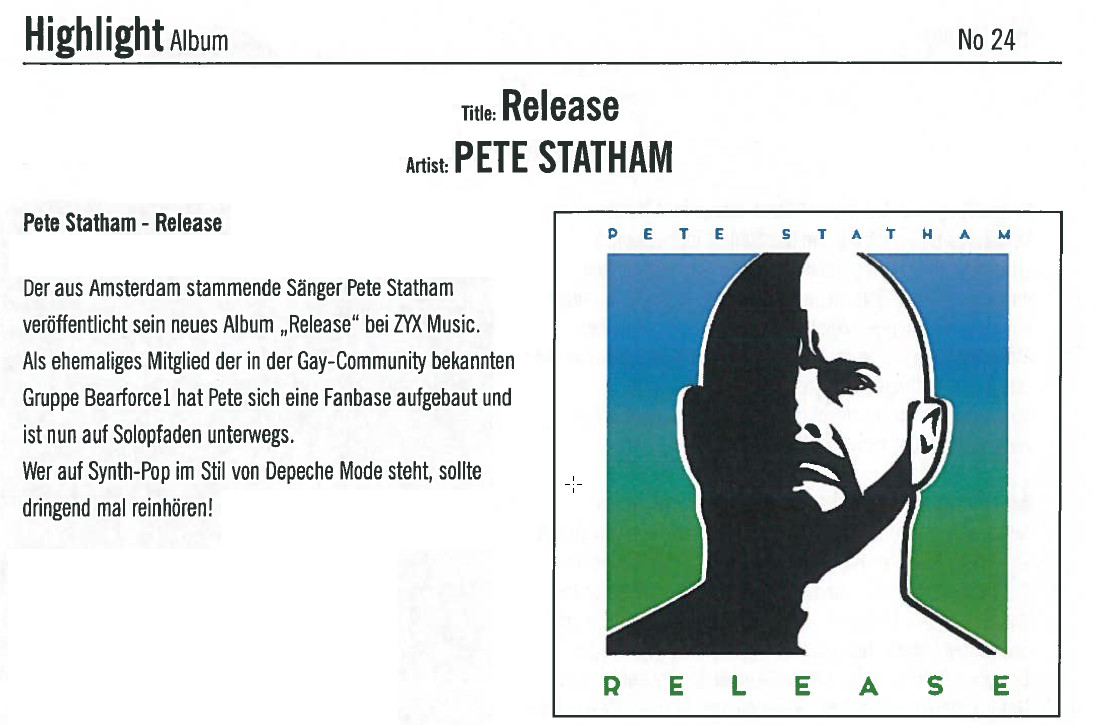 LEATHER PRIDE AMSTERDAM 2015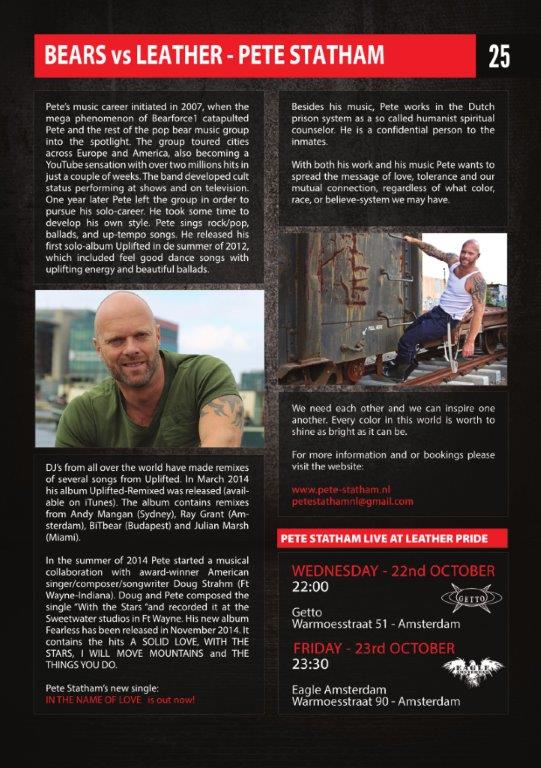 GERMAN GAY MAGAZINE, June 2015, page nr 14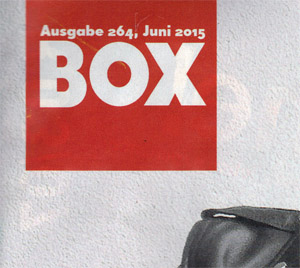 WEBSITE ABOUT PETE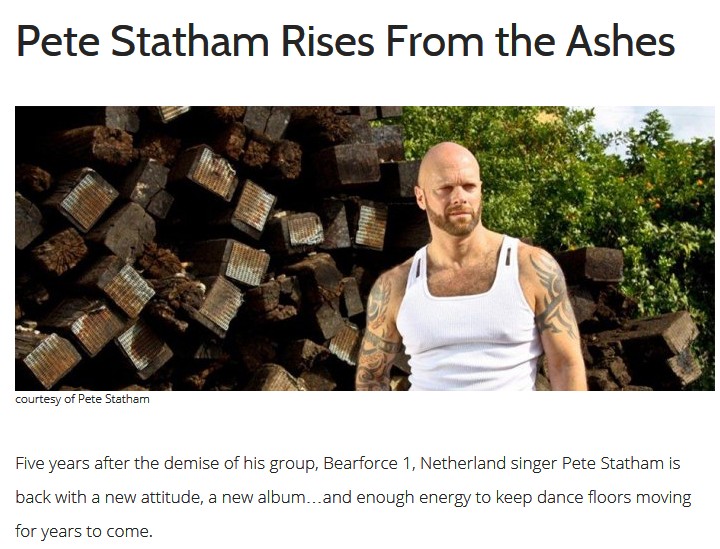 ARTICLE ABOUT PETE IN HIM-MAGAZINE
"Let Pete Statham Lift You Up!"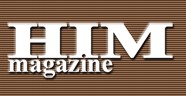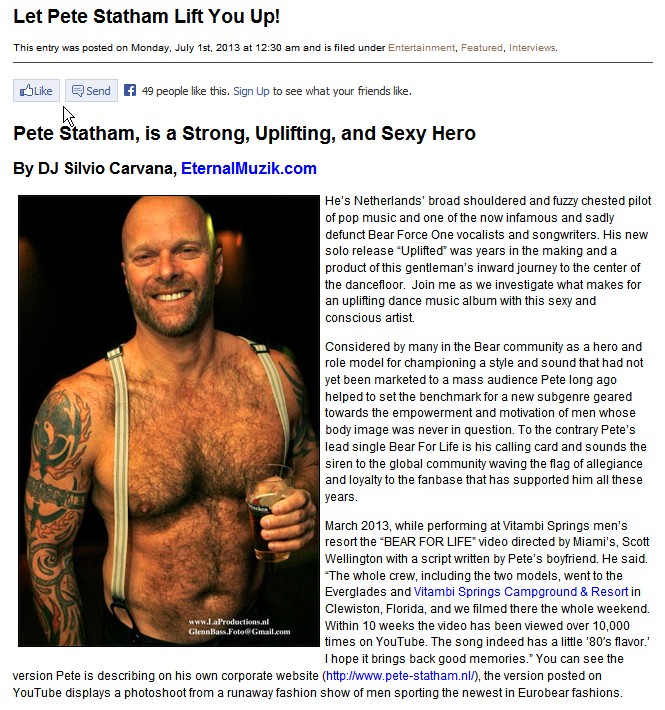 READ MORE HERE!
CLICK HERE FOR MORE DETAILS!!!

Ft Lauderdale on vj Barry Browders Hall of Fame
2013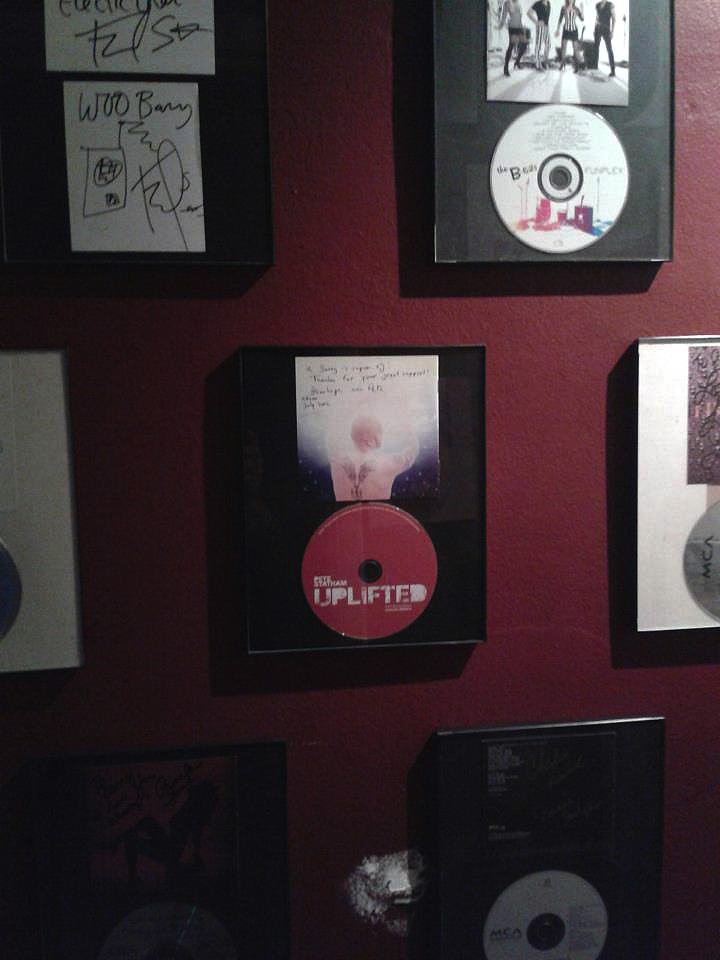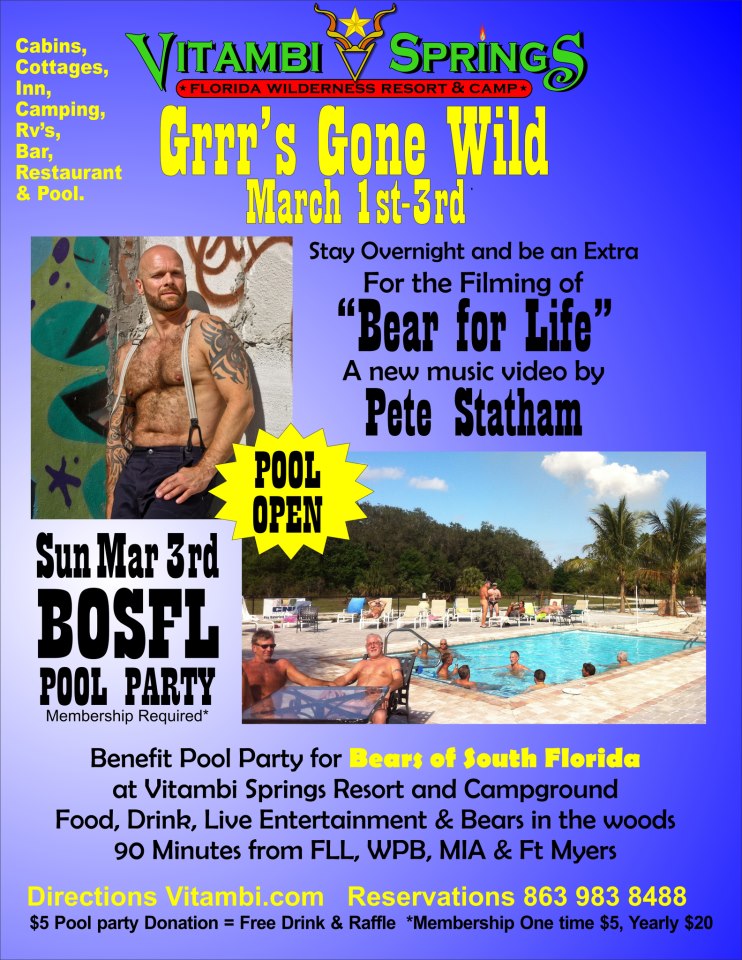 Queer Lounge Pete Statham Special,
click here to watch!!!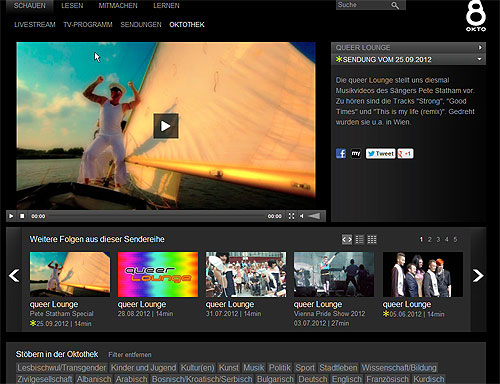 IMPRESSION OF THE LAUNCHE OF PETE'S ALBUM UPLIFTED
July 21st, book/dvdstore Vrolijk - Amsterdam
directed by Paul Vaes

MOKUM MAGAZINE, august 2012: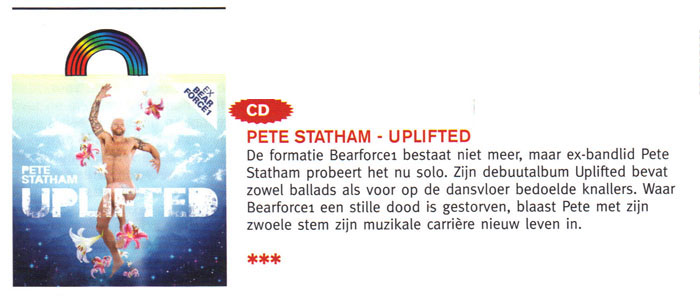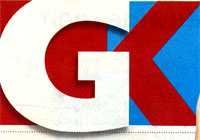 DE GAY KRANT, INTERVIEW august 2012: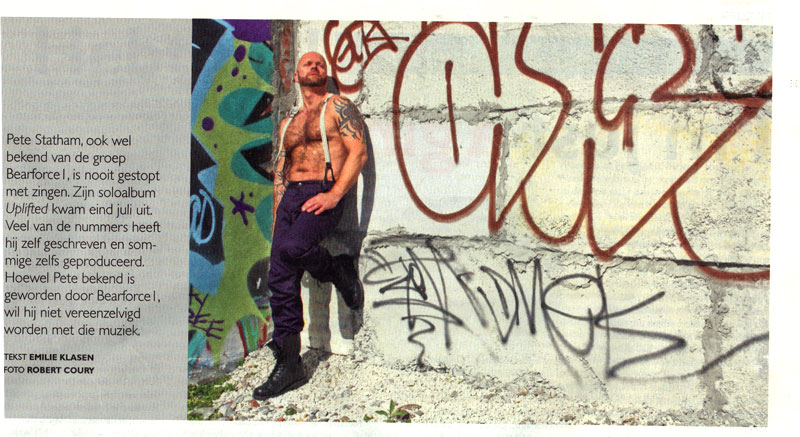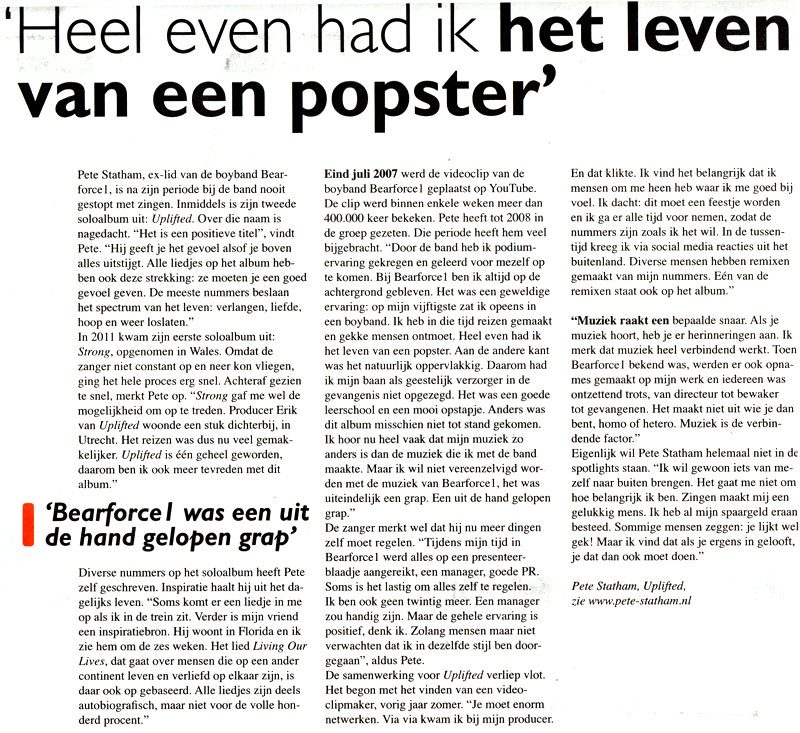 LEO (gay magazin in München, august 2012
HINNERK (gay magazine in Hamburg, august 2012)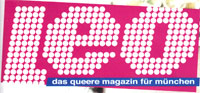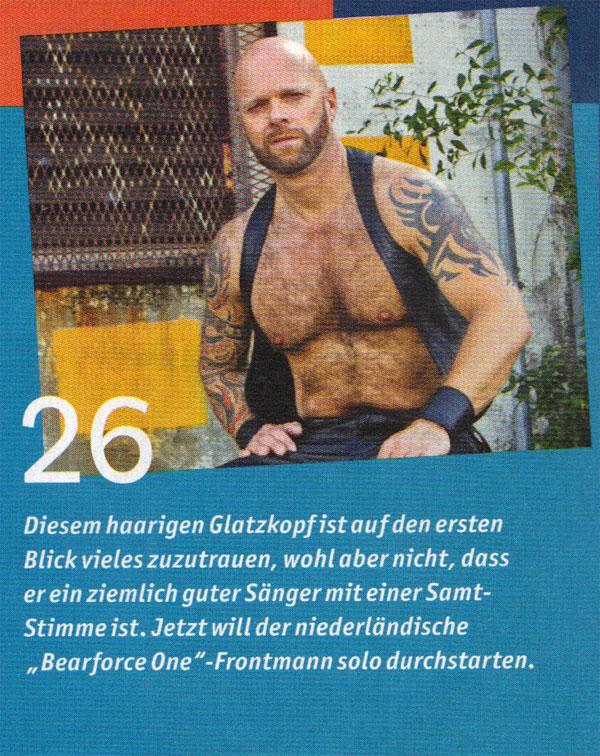 GAY KRANT: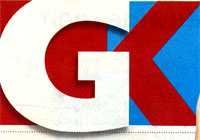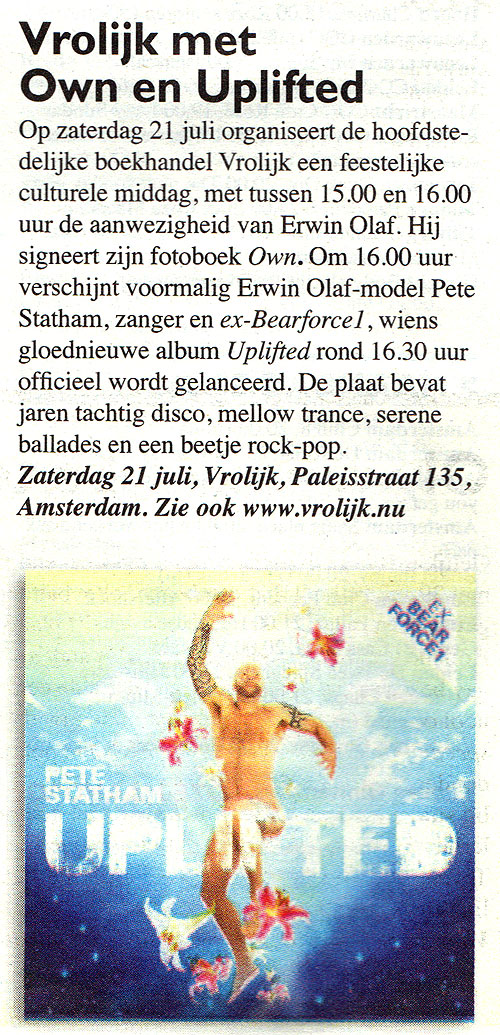 Spearhead's e-bulletin in TORONTO, Canada
MAY-JUNE 2012. Click here for the link!
GERMAN WEBSITE:



Samstagisteingutertag.
Nice review of his cd. This is my Life and Good Times

Click here for the link!
GERMAN MAGAZIN: MÄNNER.